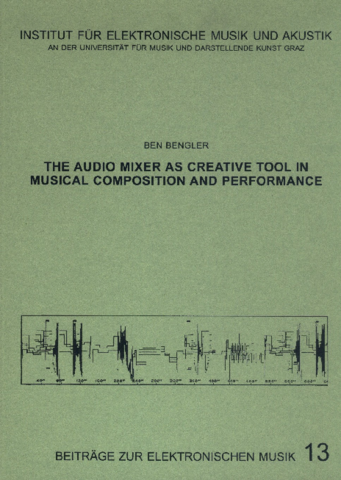 Title (eng)
BEM 13 - The Audio Mixer as Creative Tool in Musical Composition and Performance
Description (eng)
Since the beginnings of technology-based music production, the audio mixer has occupied a central role. Due to its basic functionality to mix and balance different sound sources while controlling their spatial and spectral properties, the process of mixing becomes a pivotal layer fusing together all kinds of recorded or electronically generated sounds into a new musical composition.

This article investigates how composers and musicians have utilized these elementary characteristics for artistic reasons and in what kind of creative ways they exploited the potentials of mixing technology.

The observations follow the creative use of mixing equipment from the first electronic studios in the late 1940s up to the present day, where audio mixers are often realized completely in software. Beside the audio mixer's significance for the composition and performance of electroacoustic music, the article also considers its creative usage in popular music: The observations range from the extensive use of mixing technology in pop music starting with the advent of multi-track recording in the early 1960s to the virtuosic mixing techniques that evolved in popular sub genres like Dub music or Hip Hop.

By taking a look at the last 70 years of music from a perspective behind the mixing desk, this article aims at illustrating the wide diversity of approaches utilizing the audio mixer as a creative tool in musical composition and performance.

Rights
© All rights reserved


Member of the Collection(s) (1)
| | | |
| --- | --- | --- |
| | o:95521 | Beiträge zur Elektronischen Musik |