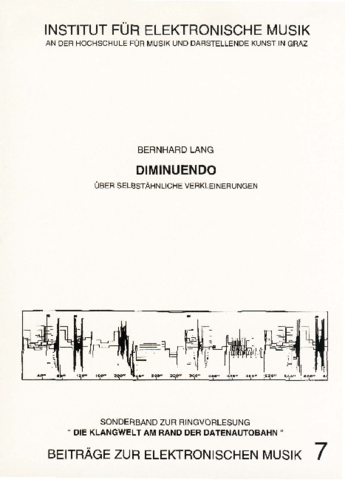 Title (deu)
BEM 7 - Diminuendo - Über selbstähnliche Verkleinerungen
Description (deu)
Im vorliegenden Text möchte ich einen Algorithmus vorstellen, der Teil eines größeren Programmes zur computerunterstützten Komposition ist, an dem ich seit 1988 arbeite: CADMUS, Computer Aided Design for Musical Applications.

Die Darstellung des Algorithmus soll allerdings nicht für sich stehen, sondern auch die Problematik und Methodik der Einbindung von Programmierarbeit in den Kompositionsvorgang darstellen.

Der Algorithmus betrifft eine spezielle Facette des musikalischen Raumbegriffs, nämlich die Diminution von Intervallen. Vor der Behandlung des speziellen Diminutionsbegriffs soll auf den Diminutionsbegriff im geschichtlichen Zusammenhang eingegangen werden.

Dann werden ich kurz auf außermusikalische Anregungen aus Mathematik und Physik eingehen, wobei ich hier keineswegs Anspruch auf das völlige Verständnis oder die Übernahme wissenschaftlicher Ideen erhebe, sondern diese vielmehr als freie Bezugspunkte musikalischer Phantasien verwende.

Darauf folgt die Beschreibung der selbstähnlichen Diminutionen im Detail.

Den Abschluß bildet eine kurze Zusammenfassung und der Versuch einer Wertung für den kompositorischen Bereich.

Description (eng)
In this short text I will present an algorithm, which in itself is part of a larger program implementing various functions for Computer Aided Design for Musical Applications, shortly called CADMUS. The description of this algorithm should not stand alone. It will be presented within its context of development and its actual usage within the compositorial process.

The algorithm deals with diminuition, a term which relates to the way intervals can be processed within the musical notion of space. The term diminuition will be described both in its general historical context and in the special sense it is used by the algorithm.

This algorithmic usage of diminuition will be compared with various ideas dating from the fields of mathematics and physics. This will be done in a very free, playful way, without claiming full understanding of those very complex issues which inspired me.

The intial concept for considering diminuitions was the idea of interval substituion using the so-called partial-series.

The resulting software functions can be iterated, therewith creating multi-layered data with growing complexity. This iteration of diminuitive functions showed very interesting results, which open a new field for experimentation and research. The functions can be applied to both horicontal-melodic and vertical-harmonic interval structures. By combining both kinds of diminuition in a matrix, musical data with similar properties in melody and harmony is created. After a detailed description of the various forms of self-similar diminuitions, a short summary will provide a preliminary valuation of the algorithm's compositorial usage.

"Puzzle: A Typogenetical Self­Rep

Now that the rules of Typogenetics have been fully set out, you may find it interesting to experiment with the game. In particular, it would be most interesting to devise a self ­replicating strand."

Rights
© All rights reserved


Member of the Collection(s) (1)
| | | |
| --- | --- | --- |
| | o:95521 | Beiträge zur Elektronischen Musik |